MILITARY PROGRAMS DEPARTMENT
Advanced innovation is the hallmark of Heckler & Koch. Our teams of engineers are second to none, and are the source of some of the most advanced weapons systems in history.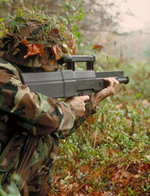 From the birth of polymer technology in the VP70 pistol in the early 1970s to the G11 Caseless automatic rifle, HK engineering genius has pushed the boundaries of what is even considered possible in small arms design in a given historical period.
This innovation genius has now moved to the 21st Century with such advanced products as the XM8 System, the G36 system, the GMG, and the MP7 system.
Whatever your mission requirements, from stealth covert operations to heavy unit support, Heckler & Koch has the tools for the job, and uncompromising standards of quality, service and dedication to the United States Military.
Please return often to learn more about the most advanced firearms on the planet.